Education
6 Questions You Always Wanted to Ask About Jewelry Repair
Getting your jewelry checked, repaired and rechecked is important if you wish it to last you a lifetime, especially for pieces you wear daily. If you've never had a jewelry piece repaired, there must be a lot of questions running through your mind. Here are six of them.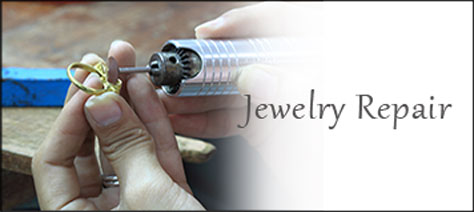 Can I get it repaired before the weekend?
Probably yes. Most repairs are simple and won't take very long. With elaborate and intricate repairs, it is advisable that you talk to your jeweler a couple weeks in advance.
Do I need a repair if the polish wears out?
Every item of jewelry repaired at a reputable jewelry store like Steel's Jewelry is made to look like new. Every scratch or blemish is polished out till the original finish is restored. However, white gold jewelry, new or old, tends to wear out periodically to reveal the yellow gold underneath. All white gold pieces need to be electromagnetically plated with rhodium to keep them looking like new.
Is the ring 'stretched' in order to increase size?
In most cases, no. Size is increased by adding sections of the precious metal at the base of the shank. It is then polished it to a flawless finish.
Should rings be checked for condition?
Yes, ideally every six months. It is natural for rings to wear out and loosen up with time, especially rings we wear every day. It can be quite easy to lose a stone if you don't take care and get your rings checked at a professional jewelry store. Steel's Jewelry offers lifelong cleaning and checking for every item of jewelry you purchase.
Do I get the leftover gold when my ring is sized down?
Not usually. The credit for the scrap gold is factored into the cost of the jewelry repair. The amount of gold removed is usually minimal and much, much smaller than you would expect. You can ask for what would probably be just gold shavings back, but it would slightly increase the cost of repair.
However, it is possible that when you size down a ring for an entirely different person that a considerable chunk of metal would need to be removed. In such cases, you should expect to receive the piece of gold in a plastic bag without having to ask for it.
Why do some jewelers recommend soldering your rings together?
Many jewelers recommend that you solder your wedding and engagement rings together to minimize wear down and prevent loss of stones. The truth is that rings worn on the same finger tend to rub against each other and this could result in parts of the rings wearing away while also loosening the diamonds, making it easy to lose them. Soldered rings can easily be unsoldered at a later time and refinished to a polished state.
Get your jewelry repaired by industry experts at Steel's Jewelry. Our store has consistently been named "Best of South Georgia". If you're in Valdosta, Georgia, head to our store at 3338-I Country Club Road to get a free estimate today.